検索
コンドミニアムの詳細& 料金の提案
予約する
ありがとうございます
Ala Moana Hotelcondo 3307 Presidential Suite 4bd/4bath-1K4Q
4br/4.5ba Presidential Suite Ala Moana3307,Spectacular Ocean Views! Book Now!
4 ベッドルーム for 10 宿泊者 (最大 10)
410 Atkinson Dr., Honolulu

ご質問がございましたら、お問い合わせフォームよりご連絡ください。
わかりやすくご説明いたします。
808.784.0123迄お電話下さい。vacationrental@luanahi.com
または お問い合わせフォーム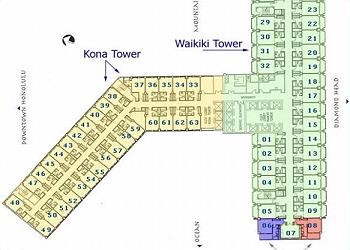 説明
Luana Hawaii at Ala Moana Hotel Condo is conveniently located at 410 Atkinson Drive, adjacent to the Ala Moana shopping mall, the state's largest open-air mall with over 300 stores, with all kind of specialty boutiques, salons and restaurants, and just across street from the Hawaii Convention Center. This is a great location just a short 20-minute leisurely walk away from the center of Waikiki, as well as being close to historic downtown Honolulu by transit.

You'll have use of all hotel amenities such as a pool with spacious new sundeck, an impressive fitness center, dry sauna, and steam room complete the amazing amenities. Dine at any of the restaurants on property with Royal Garden Chinese, or Signature Steakhouse.
This 33rd floor one-of-a-kind Presidential Suite was originally designed as the hotel developer's personal residence. Featuring 4 bedrooms (1 King, 4 Queen Beds), 4.5 bathrooms, 2 living rooms, HDTV, complimentary Wi-fi, a gourmet kitchen, and full size washer/dryer. You will have ample room to sit back and relax. If the interior space isn't enough, you and your guests will enjoy taking in the spectacular views from any of the 10 balconies surrounding the suite. Casually sophisticated and comfortably appointed for business or leisure, you'll find mountain and ocean views enhanced by the rhythms of the city, splendid sunsets, and the pleasure of your surroundings.

*************************** What's NOT included? ********************************
-NO DAILY MAID SERVICE IS PROVIDED. This is a vacation rental unit and is not a part of hotel operation. There will be no towel/linen change. Coin operated washers and dryers are available on 6th and 13th floor.
-NO DESIGNATED PARKING. Valet or self-parking is available in the building (based on availability) with an additional charge paid to the Hotel directly. Please inquire Ala Moana Hotel directly for most current rate.
-No beach goods such as beach towels , beach chairs, or beach parasols are provided.
- No transportation service provided from the airport

***************************** What's Included? **********************************
-Hotel resort fee is included in our quote. The resort fee includes free use of the Pool, Gym, Wifi, Fitness Center, sauna, and other amenities.
-We provide a Welcome Kit (conditioning shampoo, bar soap, paper goods: bathroom tissue, toilet paper and paper towel), however, we DO NOT provide refill or replacement during your stay.
-Free Hotel Wi-Fi

************************************************Travel Insurance************************************************

We recommend purchasing travel insurance that reimburses for pre-paid, non-refundable expenses due to certain unforeseeable circumstances that may jeopardize your vacation investment and force you to incur unplanned expenses. Please carefully read through your travel insurance plan of your choice to fully have an understanding of what is being covered and what is not. If not purchased, you acknowledge you have read and understood our cancellation policy and choose not to purchase travel insurance on behalf of all occupants

We strictly abide by our cancellation policy and travel cancellation because of concerns or restrictions regarding coronavirus will not alternate this policy as the pandemic has been ongoing since March 2020 and it is considered as a foreseen event.

Hawaii State GET & TAT License #: 131-573-9648-01
ご住所

410 Atkinson Dr., Honolulu

バスルーム

4.5
お部屋の広さ

3063 ft2

ベッド数、サイズ

1 King, 4 Queen
このコンドミニアムのレビュー者
Plentiful space for family vacations

Phil R. から Oak Hill US, 29. November 2021

November, 2021日後に4日間滞在

The Presidential Suite at the Ala Moana Hotel was perfect for our family of 10 (my family, brother's family and our parents). One of the sofa beds actually sits in an office room, so we were able to easily settle in across five bedrooms.

The living rooms are spacious, sit near the kitchen and offer plenty of different options for entertainment. My brother's wife would do yoga in the mornings while 4 little kids ran amok in the other spaces. And we all still got along.

Location-wise, it's good enough. It's accessible to Waikiki with a 30-minute walk. But shopping is also right outside the window at Ala Moana, as is a much quieter beach and park.

The pool facilities at the hotel are nice, occupancy seemed light and we had no issues throughout the stay.

Spacious Suite with incredible views!

Charlene N. から Little Rock US, 09. August 2021

August, 2021日後に6日間滞在

We throughly enjoyed our stay at the Ala Moana Presidential Suite. The location was ideal as it's close to everything but not as congested as Waikiki. The suite was clean and stocked with household items (dishes, towels, toilet paper, toiletries) that we needed during our stay. It was very spacious for our party of 6, but we were glad to have the extra room to spread out. The view from every room was spectacular whether it was looking toward the ocean or at the hustle and bustle of Honolulu. As for the rest of the hotel, check in at the front desk was a breeze. The pool looked lovely even though we didn't use it. The elevators in the hotel are quick between floors and we didn't have to wait long to catch an elevator to where we were going. I would definitely recommend the Ala Moana Presidential Suite for my friends and family.

Family trip

Rancho Cucamonga US, 15. June 2021

June, 2021日後に5日間滞在

We had a wonderful time. The place was amazing with great view.

Paradise Suite

Santa clara US, 08. June 2021

June, 2021日後に3日間滞在

This paradise suite was perfect for us! Clean and fully equipped for all your needs. We had 10 people and each couple was able to have their own rooms plus a bathroom with a balcony (beachfront view). This place comes with one full and a half kitchen with all kitchen amenities. Walking distance to the beach and the Ala Moana Mall. Starbucks inside the lobby area. This suite gives you access to the pool and gym as well.
Great for all ages. It was truly a WOW factor. We loved the place!

Great Stay

Terry K. から Dallas US, 28. May 2021

May, 2021日後に5日間滞在

Planned a proposal trip with my girlfriend and 8 other friends. Plenty of space, bedrooms and lots of balconies! Great location. Had washer and dryer too. The renting agency were always quick to respond. Everyone enjoyed their stay!

Beautiful!

San Jose US, 24. February 2021

February, 2021日後に3日間滞在

The stay here was amazing. Super spacious, beautiful views, connected to the mall and a few minutes walk away from Don Quijote. I would definitely stay here again!!

Really spacious stay and central location

Thousand Oaks United States, 23. February 2021

January, 2021日後に29日間滞在

The presidential suite was perfect for 5 friends. The place has an absolutely amazing view and was exceptionally spacious. The Ala Moana Hotel pool deck was a great place to visit as well. Being so close to the Ala Moana Mall was definitely another plus. Our biggest complaint was the state of the living room furniture. The furniture is noticeably soiled so we avoided siting in them.

Gorgeous Spacious Penthouse

kelsea a. から Honolulu US, 19. February 2021

February, 2021日後に3日間滞在

The Penthouse was perfect for our family and friends. Great space! The appliances could use some servicing, and the apartment could use some repairs. But I give the layout of the space and area five stars. Management was super responsive and helpful. Love the pool area. It wasn't crowded and lots of space. The wet bar was a great second area for drinks and their was a lot of fridge and freezer space. Balcony and views are gorgeous.
アメニティ
アメニティ
アメニティ
このコンドミニアムのアメニティのリスト
このコンドミニアムのアメニティのリスト
General amenity

ヘアドライヤー

Health and safety

1 day (24 hours), Safe Travels (WTTC - Global), Towels and bedding washed in water that's at least 60sC/140sF

アウトドア

ビーチ, 共用プール

アトラクション

coin laundry

エンターテイメント

テレビ

キッチン

コーヒーメーカー, 冷蔵庫, 料理用にしっかり設備の整ったキッチン, 鍋類, 電子レンジ
ビジネス

キャッシュ・マシーン(ATM), 郵便局, 銀行

リビング

Free Wi-Fi, アイロン台, エアコン, 寝具用リネン、タオル、ビーチタオル, 洗濯・乾燥機

利便性

Area FitnessCenter, Coin Laundry, 食料品店

地理的な

ビーチ, 繁華街
間取図
間取図 この物件の大まかな間取図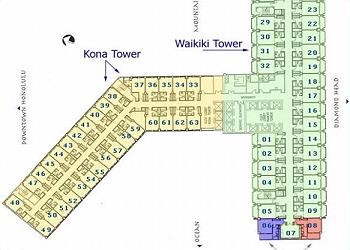 | | |
| --- | --- |
| Room | 部屋 |
| Hall | ホール |
| Kitchen | キッチン |
| Living-room | リビングルーム |
| Bathroom | バスルーム |
| Shower room | シャワールーム |
| Balcony | バルコニー |
| Terrace | テラス |
| Cloakroom | クロークルーム |
| Single Bed | シングルベッド |
| Double bed | ダブルベッド |
| Twin bed(s) | ツインベッド |
| Sleeper Sofa | ソファーベッド |
| Mezzanine bed (usually a mattress on a wooden parquet) | 中二階のベッド(通常は木製の寄せ木細工上のマットレス) |